XHHL is professional stainless steel bar sink factory. Stainless steel small kitchen bar sink is made of heavy duty T304 stainless steel construction for durability. Small kitchen sink brushed satin finish to prevent dents and scratches. Noise minimization and anti-condensation with extra thick rubber dampening pads and heavy duty stone guard non-toxic undercoating to minimize noise and reduce condensation. Stainless steel sink with custom deep single bowl allows you to soak and clean dishes and glasses. Undermount or top mount installation provide you with more counter space, create a clean, seamless and modern appearance between the kitchen sink and countertop, as well as easy to clean curved corners. Welcome to contact us, Let's chat now.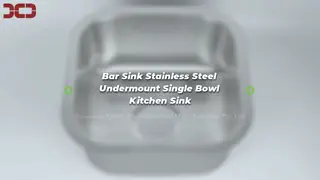 Bar Sink Stainless Steel Undermount Single Bowl Kitchen Sink Manufacturer | XHHLUndermount Single Bowl Stainless Steel 18 Gauge Kitchen Bar Sink Size:16 x 16 inch Stainless Steel Kitchen Sink: Exceptional durability constructed of premium quality, 304 grade stainless steel at the industry-standard 18 gauge thickness Undermount Kitchen Sink: Heavy duty sound guard undercoating and thick rubber padding to minimize noise and reduce condensation gentle curved shape allows complete water drainage for Bar Sink .Wet Bar Sink -- A Square Stainless Steel Sink that can be mounted over or under the bar counter in the home entertainment area.For more detail please contact us.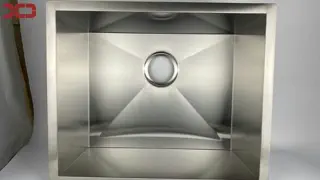 XHHL High Quality Undermount Kitchen Sink Stainless Steel Handmade Sink Single Bowl 22-Inch Wholesale - Jiangmen XHHL Stainless Steel Kitchen Appliance Manufacturing Co., Ltd.,OEM & ODM Manufacturer.Handmade kitchen sink durability design: Undermount kitchen Sink is handmade with premium 16-Gauge T304 stainless steel for durability, performance and aesthetics. Satin finished surface eliminates any dent and scratch. Stainless Steel Kitchen Sink used Ultra quiet designs with thicker & softer Rubber Noise Reduction Pads. Anti-condensation Thickening Noise Reduction Coating, absorb sound from the source, and isolate condensate. Kitchen sink extra large work space The drop-in sink has 10-inch ultra deep bowl 90-degree straight side . We also provide R10 tight radius round corners.We are very confident and proud of our quality products, and we sincerely invite you to experience the quality. Please contact us.