Ceramic kitchen sink is a new product line of XHHL factory. XHHL Manufacturers is professional in kitchen sink more than 20 years. Ceramic kitchen sink is made in Constructed of true fireclay a special white clay that is fired at 2900 °F for extreme strength and durability Ceramic sink surface is resistant to chips, abrasion or scratches. Highly durable white kitchen ceramic sink easy to clean and Elegant white color makes it the perfect addition to your kitchen for a lasting impression. Elegant white color makes it the perfect addition to your kitchen for a lasting impression. Welcome to contact us if you have any question for this product.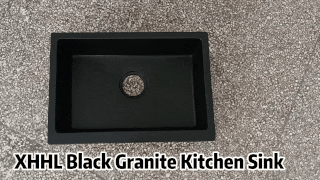 Composite Quartz Sink Farmhouse Kitchen Sink BlackQuartz Farmhouse Kitchen Sink It's the perfect sink for that farmhouse style, with the amazing performance benefits of a composite quartz sink.Composite Quartz Sink is made from an advanced quartz composite material with the look and feel of real stone. Apron-Front Quartz Composite Single Bowl Kitchen Sink in Black.Crafted to uncompromising quality standards, our quartz sinks set the industry standard for quality, durability and performance. combining high grade quartz crystals with pure acrylic resins produces a sink of incredible strength. Extremely resistant to scratching, chipping, staining, and heat resistant over 530°F, these sinks represent the pinnacle of durability.The Composite Quartz Sink  Series of kitchen sinks from XHHL Sink Manufacturer a new standard for the home kitchen. If you are looking beyond stainless steel sinks, and want to add some color and character to your kitchen design, the Granite sinks are an elegant choice. For more detail please contact us.
China Farmhouse Ceramic Kitchen Sinks Single Bowl Apron Front Kitchen Sink manufacturers - XHHLFarmhouse Ceramic Kitchen Sinks Superior Material Laundry sink surface is extreme resistance to chip, discoloration, scratching and cracking withstand everyday wear and maintain its luster, year after year.Easy to Clean: Ceramic sinks are usually fitted into kitchen counters seamlessly. There's little space for dirt and grime to accumulate and their glazed surface makes it hard for stains to seep deep into the sink surface.20 inch Ceramic Kitchen Sink A white ceramic sink could it most of style kitchen cabinet. It is never out of style.For more detail please contact us.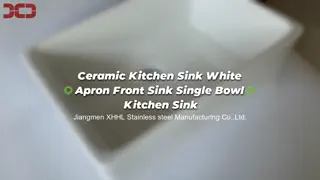 Professional Ceramic Kitchen Sink White Apron Front Sink Single Bowl Kitchen Sink manufacturersCeramic Kitchen Sink Multi-layer glazing smooths the surface of the sink for easy cleaning.Farmhouse Ceramic Kitchen Sink Reversible Single Bowl Farm Sink. Advanced technology significantly reduces odors in the kitchen.White Apron Front Sink installation style,Engineered with high-quality ceramic and high-temperature forging, extreme durability. The raw material is of high quality and environmentally friendly.Kitchen Ceramic Sink W-2416 ,XHHL Focus on the all kind of sink, We also provide OEM Service ,Please Contact us.